PHP 4 and PHP 5 Comparison - part 1
Which PHP version to use? This is the question that we will try to answer in this article, presenting you with a detailed comparison between PHP 4 and PHP 5.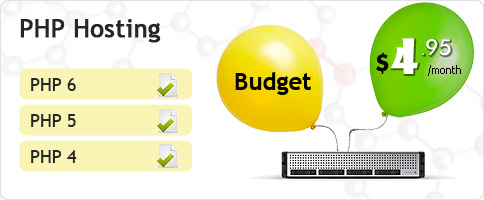 Table of contents :
PHP, or Hypertext Preprocessor, has been the most used programming language for web pages for more than 8 years now, and for an industry, which is changing every few months, this is a really big achievement. In order to stay on top of things, the
PHP
Team is constantly working on improving the code in every way possible.
Currently, there are two PHP versions which are being used,
PHP 4
and
PHP 5
. Even though PHP 4 is no longer developed, there are a lot of scripts still using this older version, due to its proven qualities.
At NTC Hosting, we believe in the power of choice. This is why we offer both the no longer developed PHP 4 and the currently supported version PHP 5, with all of our
web hosting
plans to form a powerful
php hosting
offer. Our clients can easily select the active PHP version for their account at any moment, and then can change it as many times as they want, using our user friendly PHP Settings Tool in the Web Hosting
Control Panel
.
And to assist in your choice, we will now take a closer look at the differences between the two most popular
PHP versions
.
The first thing that comes to mind when you start to compare PHP 4 and 5 is the:
Object Model
The Object Model was present in PHP 4, but it was completely reworked in PHP 5. Here are some of the most important updates:
Proceed to the second part of the PHP4 and PHP5 comparison.