DNS Management
Customer Feedbacks
NTC Hosting offers its clients a full DNS Management service. Our
web hosting
plans allow you to edit and
create NS Records
,
A Records
,
CNAME Records
,
MX Records
,
SRV Records
,
WHOIS Records
and more.
The
Domain Name System
is a
database
whose main function is to "translate" domain names into
IP addresses
and vice versa. For this purpose, the DNS system uses a set of hierarchically ordered DNS records, each of which contains concrete information about a specific service.
Table of Contents:
DNS management
DNS management is a service, which allows domain owners to manage their
DNS records
. This way they can specify the
servers
to which the different services offered by their hosts will be pointing, and automatically transfer the services from one server to another in case the first one is not online or cannot provide the desired service. DNS management is essential today, when you can have several servers managing services for just a single
website
. Most
hosting
companies today have separated their control panels - one, dedicated just to domain management and billing, and another - to the management of the actual website content.

DNS management with NTC Hosting
NTC Hosting offers its clients the possibility to manage their
domains
and
sub-domains
,
e-mail
aliases, mail records,
SPF
records, WHOIS records, A Records, via our in-house built Web Hosting
Control Panel
. Thanks to the innovative lighter design of our
Domain Manager
, the editing of the DNS records is brought down to just filling and submitting the desired name servers.

The change of the
A and MX records
is also just a few clicks away - simply go to the Custom DNS Records section under the Site Management menu.
The big advantage of our service is that you can manage both the settings for your domain name and the website content from one place - our Control Panel, so that there is no need for you to remember
multiple
usernames and passwords.
Register your own name servers with NTC Hosting
By default, the name servers that you need to use in order for the domain to be working with us are dns1.ntchosting.com and dns2.ntchosting.com, but we also offer you the option to
register your own name server
. So, if you have your domain name registered with us, you can have dns1.your-ntc-domain.com and dns2.your-ntc-domain.com created just for you. And while with most of the hosting companies you will have to resort to their support staff to get this done and wait for hours for them to get back to you with the good news, with us you can do that with just a few clicks from your Control Panel. Simply visit the Domain Manager menu and click on the blue NS icon there. From there you will also be able to add additional records, such as SRV, TXT or AAAA records.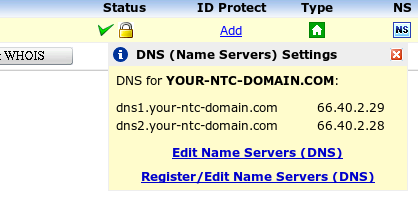 DNS propagation
Every time you make a DNS record change, you will notice that this change is not reflected online immediately. This is due to the DNS propagation. Once you make the DNS record changes, they are saved on the hosting provider's
">DNS server
. However, when you request your website, you request it via your
ISP's
DNS server, which has older DNS information cached, in order to speed up the web surfing process.
When you update your DNS records, you will have to wait until this change is passed to the master DNS servers in order for the changes to be reflected online. This process can take from 4 to 48 hours and is called DNS propagation.

For new
domain registrations
, the DNS records are usually propagated faster in order to have the newly registered website online as soon as possible.