With the growth of the Internet world, today almost everybody owns a domain name. However, when you register a domain name, you are obliged to provide personal information for the domain name owner, be that an individual or a company. This information will become publicly available once the domain name goes live. In today's world private information is a serious matter. And this is where Whois protection, also known as ID protection, comes to the rescue.
ID/Whois Protection
Why would you need an ID Protection enabled for your domain? The answer is simple - because this service hides your personal/company details listed in the WHOIS from the public eye and thus protects your identity from any type of online/offline abuse. NTC Hosting is giving you ID Protection as an optional extra service with each domain registration or transfer. We highly recommend this service to you since it works exclusively for your privacy in an environment flooded with abusive activity just as the Internet is. ID protection is available for you at any moment, but to be sure that at no time will your personal information be online, you can apply for ID protection right on the web hosting order page, while getting your free domain with the hosting account.
ID Protection, also known as ID Protect, or WHOIS Protection, guarantees that your private contact information is kept invisible 24/7/365 to all Internet users, including spammers and identity thieves. Without ID Protect, spammers can easily obtain your email address from your domain's WHOIS details and use it for spamming/marketing purposes. This means that your email address can be part of the database of various spammers and marketing firms for years!
ID protection with NTC Hosting
Get ID Protection enabled for your domain and have your name/organization, address, phone number, email address, etc. masked and shielded from any unsolicited actions. NTC Hosting is offering you this service as an extra option to the domain you register or transfer, or as an upgrade service from the web hosting Control Panel. Simply go to the Domain Manager section and click on the "Add" icon which is under the ID Protect column.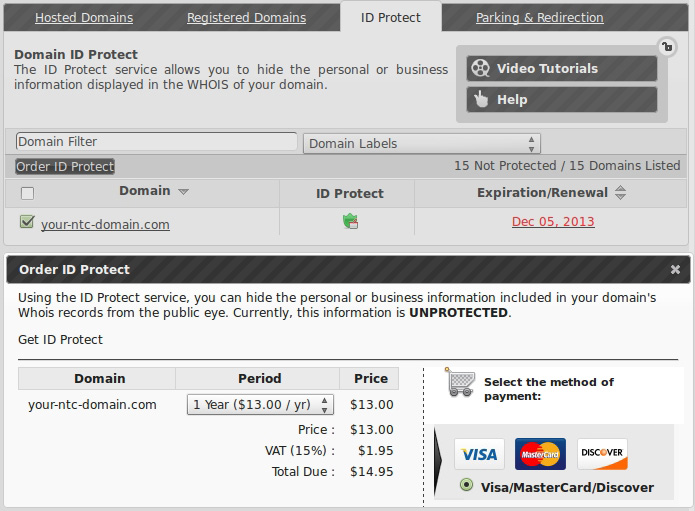 With the WHOIS details being hidden you now have even greater control over your domain name. You can have its security increased with one single click.