The cPanel Control Panel is more than a regular website management tool, it is a whole fully featured platform for administering all aspects of web hosting. Whether you are a regular user, a hosting reseller or a dedicated/VPS server user, cPanel has all necessary powerful capabilities to help you efficiently manage your hosting environment.
Why do we need a Control Panel?
Every website needs certain server resources to be running online smoothly like disk space, traffic, etc. Managing those resources and hence your overall web presence (including websites, emails, etc.) would have been a really hard task, within the capacity of administrators only, if it hadn't been for the introduction of the Control Panel solution - a web-based interface, allowing for every inexperienced user to control their web server resources with a click of the mouse.
Web hosting Control Panel software types like cPanel, Plesk, Direct Admin, have hit the web scene serving a basic purpose – to help all users feel as masters of their own web presence. They all go through continuous improvements to be always in tune with users' growing requirements.
What is the cPanel Control Panel like?
Of all Control Panel solutions, the cPanel software is famous for offering more than a regular website management interface. It is known as a fully featured platform for managing absolutely all aspects of the web hosting cycle – from end users' websites, through hosting reseller systems, to entire dedicated or VPS server environments.
cPanel for end customers/users
Before all, cPanel is a great graphical Control Panel from where you can have 100% control over your websites and their supporting services like domains, emails, etc. It ensures a user-friendly interface equipped with all the necessary features and services for keeping your sites online and for managing their settings and overall performance. They are all divided into separate sections and categories for you to easily navigate through the Control Panel and make easy use of its potentialities. For less experienced users cPanel offers many helpful tools like video tutorials, on-screen tips and Getting Started Wizards, so that you can get into the shoes of a webmaster in zero time. That added to the regular support service provided by your host makes the management of your site a breeze.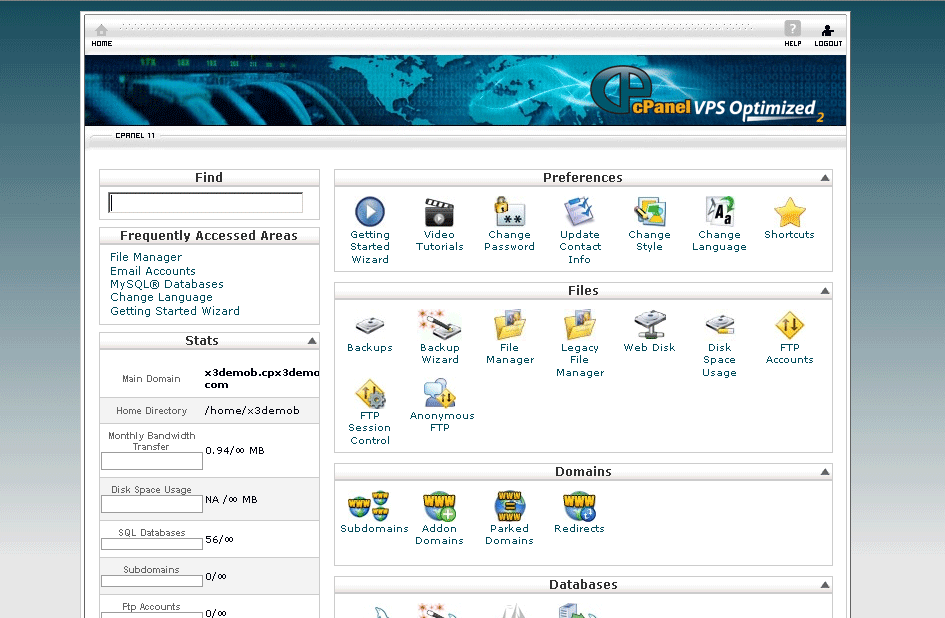 cPanel/WHM for hosting resellers
The cPanel combined with the WebHost Manager (WHM) offers a complete reseller hosting control panel system. The cPanel and WHM software package ensures all the conditions for a centralized management of an entire reseller hosting business. With the help of the WHM you can create custom web hosting packages, set up your own domain account offering, etc. operations for providing your hosting customers with everything they need to have their sites up and running online. The cPanel in turn will be the default Control Panel going with their hosting packages. Most cPanel platform providers will allow resellers to have their own cPanel account for setting up and managing their reseller hosting store.
Through the WHM cPanel hosting resellers will have the option to fully brand the Control Panel, replacing the logo image with their own, and completely customizing its appearance using one of the multiple skin and language options supported by cPanel. Resellers will also have the option to set custom name servers (custom NS records) to their store domains and even integrate their own payment system.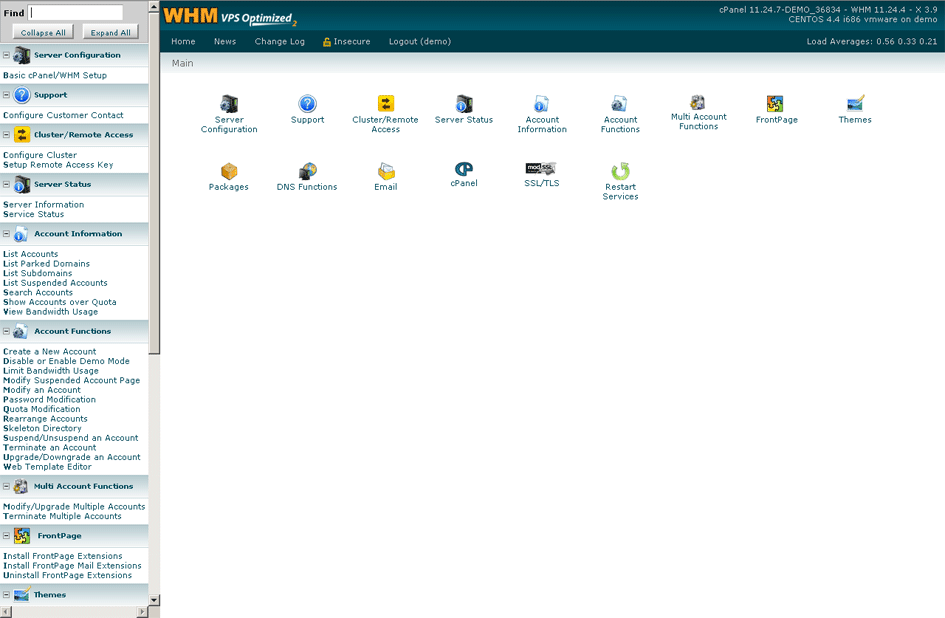 cPanel for dedicated and VPS servers
The power of the cPanel software can be used for managing even whole server environments. Many providers of dedicated and VPS servers include cPanel in the list of administration options offered to their customers. The tool is compatible with the CentOS, Red Hat Linux, and FreeBSD operating systems. It can be used on the Apache web server platform and supports various applications like the PHP, Perl, Python, BIND DNS server and the MySQL, PostgreSQL databases. The supported email servers include POP3, IMAP, and the SMTP server.
cPanel alternatives
The cPanel Control Panel solution is widely popular among users online and most web hosting providers are offering it as an integrate part of their services. The great amount of features and functionalities cPanel offers may look a bit confusing to users needing just a small part of these options to run their websites. For that reason, some companies, like NTC Hosting, have implemented their own web hosting Control Panel solution that corresponds to their customers' specific demands. The Control Panel is coming with all web hosting plans and offers an easy way for both beginners and advanced users to manage their overall web presence. Some of the key tools integrated into the Control Panel include Domain Manager, Subdomain Manager, Email Manager, File Manager, FTP Manager tools, etc. sections.