You are looking for a way to protect your email addresses from being used for unsolicited spamming activity? The solution is called SPF Protection and is included in the Advanced E-mail Manager of all web hosting plans offered by NTC Hosting.
What is SPF Protection?
Now you will not worry anymore that your e-mail addresses are used for sending abusive messages. We have a really effective solution for you.
SPF stands for Sender Policy Framework and, as its name implies, allows the e-mail address owner to specify which mail servers they use to send mail from their domain to prevent sender address forgery. The SPF protection is a two-side process that requires the intervention of both the owner of the domain (to which the email address is attached) who specifies some mail sending rules in the domain's DNS zone, and the receiving server that checks whether the message complies with the domain's stated policy.
How to protect my e-mail using SPF
Hurry up and save your online reputation by protecting your email addresses. Now you can be always confident that your e-mail addresses are not used for abusive purposes. To enable the SPF protection service you should first specify the domain name you that wish to protect (all e-mail addresses under that domain name will be secured with the rules you define) and select the ON option.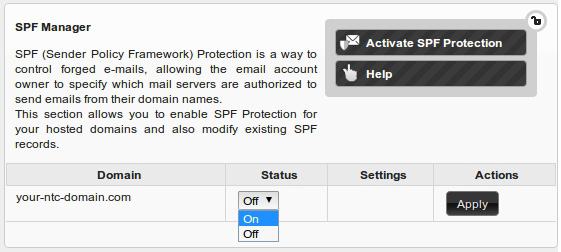 That's it!