When going into the e-commerce realms, you will without a doubt get to the matter of security. Credit card payments over the Internet need to be secured, since the data transmitted is very important. This is why special ways of securing the web page were created. And today, the most popular and safest way to secure the data transmission between the visitor and the web page is the SSL certificate.
Our hosting packages allow you to have SSL secured websites using WWW-renowned Secure Certificates and software.
SSL Certificate
An SSL Certificate installed on your website works exclusively for its security. It allows for sensitive information encryption, which shields your online customers' personal (address, birth date, license/ ID numbers) or billing (credit/ debit card numbers) details from any act of online abuse. What's more - each SSL Certificate contains unique authenticated information about you, as a certificate owner, verified by a special trusted Certificate Authority. This creates a trustworthy image of your online store, log-in page, etc. and guarantees the credibility of your brand in the eyes of your customers and site visitors.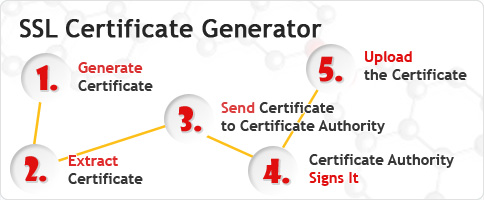 SSL Certificate Requirements
Once you have decided to use an SSL certificate, you will have to meet the requirements for having an SSL certificate assigned to you. The first thing you will need is a domain name with a hosting account. If you are using a free hosting service offering subdomains (user.my-free-hosting-provider.com) instead of full domain names, users will most likely be turned away from your commercial site, even if it is protected by an SSL certificate. To save on a domain name, you can take advantage of the free domain registration with a hosting account offer by NTC Hosting.
Once you have a hosting account with a domain name, you will need a dedicated IP address. A dedicated IP address will mean that it's exclusively your site which responds to the given IP address, which is a requirement for the correct functioning of the SSL certificate. If there are several sites running on the same IP, an SSL certificate installed for one of the sites will cause all SSL requests for the other sites to be redirected to the SSL protected site. Since most of the online hosts offer shared hosting accounts, the dedicated IP address is a de-facto necessity.
After you have a domain name with a hosting account and a dedicated IP address, all you need to do is generate a CSR request and give it to an SSL authority, so that they can generate the SSL certificate for you.
CSR request with NTC Hosting
With each of the e-commerce optimized hosting packages offered by NTC Hosting you get an SSL Certificate Generator allowing you to automatically activate an encrypted connection for your website. This is done through a CSR Record, an unsigned certificate where you specify some required details (Organization name/unit, country, domain name).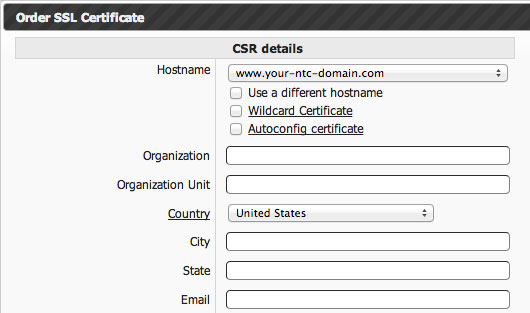 When ready with the SSL Certificate Request, you will have to send it for a signature to a Certification Authority with just a click of the mouse. It is returned to you signed and containing the CA Private Key.
SSL installation with NTC Hosting
Once you have all the things necessary, it's time to install the certificate. What is left to be done is to upload it in order to use it online. Simply go to the Hosted Domain section in the Web Hosing Control Panel and click on the Edit Domain icon for the host you want the SSL installed for.

A new window will open where you have to select Upload SSL certificate and paste the contents of the files the Certification Authority has sent you in the required fields.

You can now safely accept credit cards and collect sensitive information over the Internet.