The release of FrontPage marked the evolution of the WYSIWYG (What You See Is What You Get) editors used for the creation of web pages and websites. And just as all new Internet trends do, this was soon to be followed by other companies introducing several competing software applications. Among them one has risen over the competition and is now on a par with FrontPage as the most popular website design software tool – the Macromedia Dreamweaver.
The Macromedia Dreamweaver support service offered by all NTC Hosting web hosting plans provides integration and full compatibility with the latest versions of the Dreamweaver extensions.
The Macromedia Dreamweaver
When Macromedia Dreamweaver was originally released, the product was downloaded more than 60,000 times in just a few weeks. This marked the rise of Dreamweaver as one of the top platforms for website creation. It came with an inbuilt code editor right out of the box, which can allow the website creator to use several programming languages whose syntax is highlighted in order to make code revision easier. Dreamweaver also allows for an easy integration with SQL databases, such as MySQL and PostgreSQL. Dreamweaver also allows for custom "extensions" to be added, enhancing the core functionality. These extensions can be written by anyone, which has allowed for a huge Dreamweaver extension community to exist, contributing to the application functionality.
Web application creation with Dreamweaver
Web-based applications can be easily created and edited using Dreamweaver, which is a product of Adobe. It has an inbuilt code editor for the most popular web programming languages - HTML, CSS, PHP, ASP, ColdFusion, JavaScript, ActionScript, VBScript, etc. The Adobe Dreamweaver extension software allows you to create and use ready-made templates. The processing of the pages is connected with different modes - design, developer, or mixed. The many tools and features offered by Dreamweaver make it convenient for both professional programmers and beginner webmasters.
Dreamweaver Compatibility in NTC Hosting
To give its clients the opportunity to take advantage of this innovative web editor, NTC Hosting has included FTP connection and full compatibility with the latest versions of the product in each of its Dreamweaver hosting plans. Our hosting network is equipped with fast, stable FTP servers, allowing for seamless FTP transfer.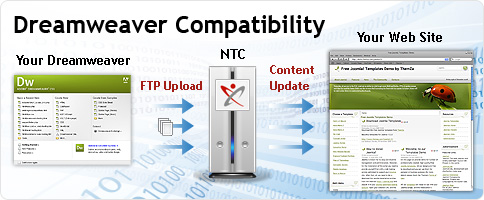 After you have set the connection between the software and your Dreamweaver host (using an FTP connection - you can see your FTP username and password in the FTP manager section in your Web Hosting Control Panel), you'll receive the opportunity to dynamically modify, edit and update your websites, to upload new documents and entirely remove files, folders and whole projects. You can later modify your website content from any machine with Dreamweaver installed, by connecting to the server and modifying the web page content in real time.