Using the Plesk Control Panel you can automate absolutely all tasks related to your web hosting business or your daily server-based business operations.
What is Plesk?
Parallels Plesk Panel or just Plesk in short is known as one of the most multi-functional Control Panels on the planet. It goes far beyond the capabilities of the regular web-based tools for managing the server resources your sites need to exist. Plesk is a complete multi-level hosting platform Control Panel, giving the server administrator a wide range of graphic-interface options to set up and maintain a whole hosting business serving the end customer. It is just as good for configuring shared hosting solutions as it is for setting up virtual and dedicated servers. The operating systems supporting Plesk include Fedora, Red Hat, Debian, FreeBSD, SuSE, CentOS, Ubuntu, and Windows.
Plesk navigation and capabilities
The Plesk Control Panel boasts an easy-to-navigate web hosting automation interface. Navigating through its multiple sections has been facilitated to the maximum, so that you could quickly find the functionality you need at any given moment. The Control Panel memorizes all most commonly used functionalities and brings them to you anytime you access its interface.
As far as the very management process is concerned, Plesk offers a great deal of features for efficient administration of the available hosting resources. Some of the most noteworthy administrative options include an auto-update mechanism and an auto-component updater, a migration manager, as well as a web-based installation for quick deployment. With those administrative features Plesk users will be able to handle all the necessary updates automatically.
Apart from the functional side of Plesk, you will have the opportunity to customize the layout of your working environment by selecting from a variety of additional skins, or by creating your own fully branded skins through a web-based interface.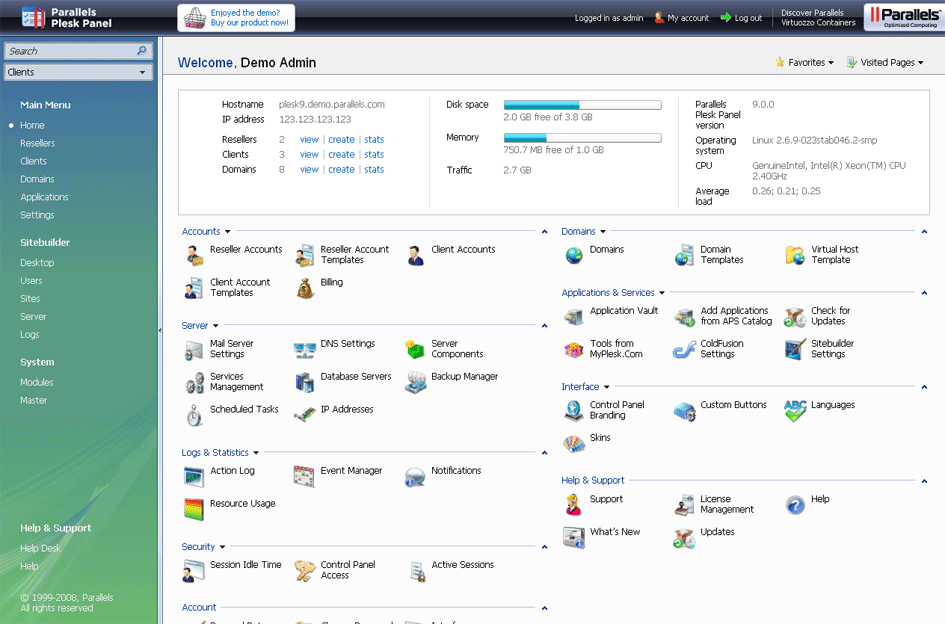 Plesk Add-ons
In addition to its basic web hosting automation options, the Plesk Control Panel also offers a few add-on services that further expand its capabilities. The add-on software packs include: the Parallels Plesk Sitebuilder, a fully featured website creation and management tool, Parallels Plesk Billing, a professional billing/invoicing tool, and Parallels Plesk Expand, an advanced multiple server support platform. All add-on packs are fully compatible with the main Plesk Panel distribution.
Plesk for shared hosting providers
The Plesk Control Panel is configured to help you set up your own web hosting packages and offer them to the end customer. It automates all the management tasks for you giving you time to focus on the other important aspects of your business. The platform allows you to perform a wide range of service setup operations such as creating new websites, email accounts, and DNS settings through a web-based interface.
The end-customer side of the Control Panel is just as user-friendly for your clients as it is for you as a hosting services provider.
Plesk for businesses
The Plesk Control Panel is also available as an end customer web hosting automation solution. It has been designed to allow individuals and small to medium sized businesses to manage their own servers without needing to use expensive administration services. Boasting amazing levels of stability and security, it empowers businesses to configure and manage all the necessary services for running their websites online, including DNS, email, databases, FTP, SSL, just to mention a few.