When you get your domain name from a domain registrar company it will take the company's default name servers, which will point it to a default page until you find a hosting service for it. If the domain is registered through a web hosting provider - it will be set to the provider's own name servers and will be ready to host your website whenever you decide. And if you wish your name servers to match your domain name, then you will have to register your own private name servers.
DNS Registration
DNS registration is a service, which allows the owner of a domain name to use his own name servers, which can match the domain name in question. This way, if you have a my-best-domain.com domain name, you can register ns1.my-best-domain.com and ns2.my-best-domain.com, instead of the registrar's or the hosting provider's default name servers. Those name servers point your website visitors' browsers the way to your host's server, where your website(s) and email box(es) are located, by resolving the domain name into its actual Internet address (IP address). If the name servers are incorrect, your site will not be found when typing its domain name in the browser.
Note: DNS registration, just as other DNS settings, will need time to propagate online. If you have just registered new name servers, make sure that they are operational, before switching your domain name to them.
DNS Registration with NTC Hosting
By registering your domain name with NTC Hosting you get two name servers (primary DNS/ secondary DNS) assigned to it. As soon as you upload your website online through your NTC Hosting Control Panel - the name servers will help your visitors quickly find it on the Internet.
Also, our advanced domain manager allows you to register your own name servers. To do so, you need to open the DNS tooltip by clicking on the 'Edit DNS' icon for the specific domain name.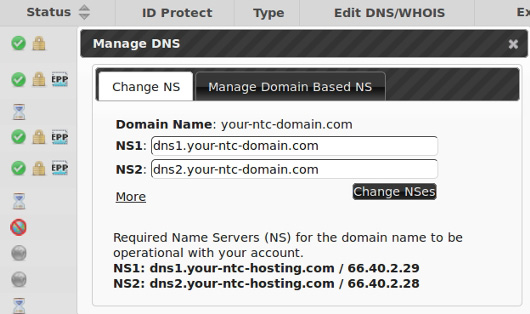 Then you will be able to register NS for your .com, .net and .org domain names, and point the name server records to a specific IP address.
Typically, name servers begin with either "NS" or "DNS" (i.e. DNS1 or NS1), e.g. dns1.my-best-domain.com.
Usually, new name servers registered via the Web Hosting Control Panel will take about an hour to become fully operational.
DNS Registration with Enom.com
If you have an account with ENOM (our domain registrar), then you are able to register name server records from their website too. To do so, please log in your ENOM account and navigate to Domains-> Advanced tools-> Register a Name Server.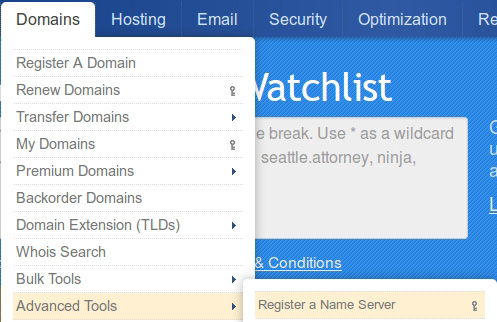 Once the 'Register a Name Server' section is opened, you can choose your NS records name and IP address and submit your registration.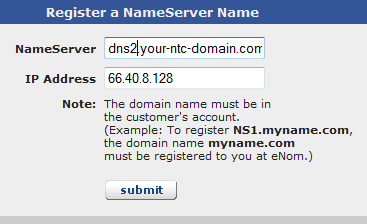 Again, the new name servers will start working several hours after the registration. It is highly recommended to see if the new name servers are working, to avoid additional downtime.
In practice, our Control Panel's Domain manager provides a more convenient method of registering DNSs. Name servers registered through our Control Panel are ready and available much faster. There is also an option to manage and edit your DNS records, to set custom DNS records for a specific domain and to use A or CNAME records to point your domains to another IP or URL.