We, at NTC Hosting, provide all of our client with advanced Domain manager which enables you to set your domains in to Parked status and also to apply a predefined template, or to redirect the domain to another URL.
Domain parking represents an easy and affordable way to secure a given domain for the purposes of a future project of yours, for web traffic redirection or for sales purposes. The domain parking option is included in the price of our web hosting plans and there is not a limit with regard to the number of the parked domains in your account.
Domain parking is a process where you register a domain name with us and but do not use our domain name servers. This means that if you type your domain name into a web browser you will arrive at a default page provided by NTC Hosting.

NTC Hosting offers you two options - you can either use a predefined template where you can place your own text or redirect your visitors to a completely different web address. In order to park a domain name, simply go to the Domain Manager menu and click on the icon under the Type column to set it to Floating. Then, click again in order to Park the Domain name.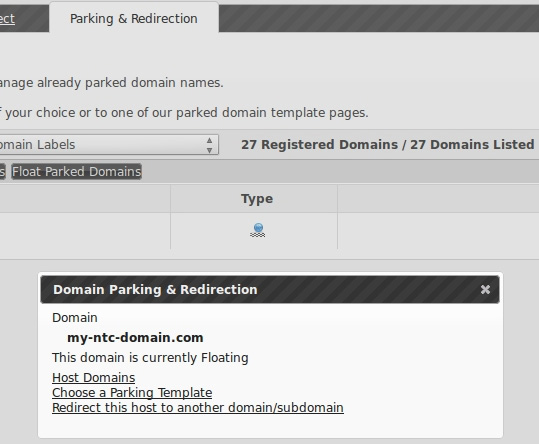 If you choose the template option, you can select between three categories each of which offering two template types. Check the previews and then type a desired text to be displayed. To redirect your visitors, choose the web address option and fill in a URL.
For example, if you are yet to start building your website, you can use a template, which informs the visitors that the site is under construction or one that says 'coming soon'.
If you've decided to sell the domain, you can use a template that specifies the price at which it's being offered.
On the other hand, if you have a website, which works successfully, you can use the domain parking option to redirect visitors to another domain and thus redirect traffic to your website.