Email communication is an integral part of our social life today and setting up an email account has turned into an as ordinary a task as buying a new mobile phone, for example. There are various email setup possibilities for individuals and businesses, depending on the budget they have dedicated to e-correspondence.
Set up an email account with a Free Webmail provider
Whether you have chosen to use email through free webmail applications or through hosted email software - you will need to deal with email account setup tasks before sending your first message. Though setting up an email address with a free webmail application is generally easier than it is with a hosted email client, the companies offering email hosting services are investing many efforts in making them as user-friendly as possible.
The process of creating an e-mail box with a free email provider usually requires you to fill a registration form with your personal details. The form will also ask you to choose a name for your mailbox and set its password. While the name of the mailbox can be freely chosen, you are forced to use the email provider's domain name, so your new mailbox will look like: something@mail-provider.com. Once you set up an email account with your new email provider, you will be redirected to the mail provider's Webmail application, which is the main tool for receiving and sending e-mail messages. It may have the basic tools allowing you to manage your mailbox.
Reasons to set up a Hosted Email account
Why is it worth setting up your mailboxes with a hosted email client? That's because it will give you total independence online and multiple options for control over your email messaging that no free webmail service can provide altogether - Email Filters, Anti-virus Protection and SPF protection tools, Auto-responder Emails, Email Forwarding, Mailing Lists Manager, etc.
Also, with most hosted email providers you are allowed to set up an email account with your own domain name. This is a professional solution for business or corporate email correspondence, and also a premium option for personal needs. Also, in the common cases the email service comes together with your web hosting service and allows you to host multiple mailboxes together with your website.
How to set up an email account with NTC Hosting
It's very easy to set up multiple email accounts with the services offered by NTC Hosting. To get each new email account going, you will simply need to choose the domain name that you wish to assign it to and specify the name of the mailbox (e.g. name@your-net-domain.com). Then define the mailbox's password and choose whether to set up an auto-responder message or not.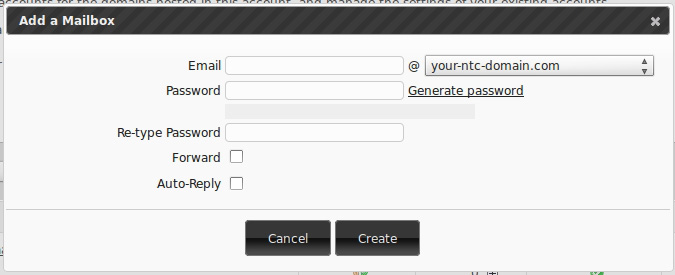 That's it, indeed! In addition, you will have the option to choose whether to have your new mailbox configured automatically with Outlook or Outlook Express - two of the most widely used email clients on the Internet.
This is all done through our advanced E-mail Manager, coming with the web hosting plans courtesy of NTC Hosting, where you will find all the necessary email control options listed above as well.
Also, you can use the mailboxes set in your Email Manager together with your custom designed website, and with various popular PHP scripts like Joomla, WordPress, phpBB, osCommerce and others, accessible via activation from the Popular PHP scripts installer.