The Domain Manager is a tool integrated into the Control Panel offered by your web hosting provider. It ensures a user-friendly, graphical environment for managing all settings, related to your domain names. The best part is that you don't need any special skills to use this user-friendly tool.
What is a domain?
Getting a domain name for your new website is one of the first things you should think of when starting your own web presence. A domain name is the 'dotsomething' web address you will be found by on the Internet. Choosing a suitable domain is just as important as selecting the right platform to build and design the site itself. For example, the domain name of our website is ntchosting.com, this is the address that you type in your web browser or search box to find our site among the multitude of sites and reach it directly. Domains are also the basis for creating subdomains that will help you to have more than one website under a certain domain and to better organize its contents.
What is a domain manager?
To get a domain for your site you can just go to the store of a recommended domain company and follow the registration steps. In most cases, the registrar would give you a small personal account from where you can manage the domain's DNS settings and some other basic settings like the WHOIS information. However, these are just a small part of the options you can have for managing your domain. Since you will use the domain name for your website, there will be many more settings to control, so that your domain serves your website smoothly. This is why some hosts (who also support domain registration services) offer a complex domain management interface integrated into their Control Panel, which allows the user to exert centralized control over their domains' registration and hosting settings. The domain manager tools may take different forms, i.e. can have different layouts and sets of included features, with the different hosts. However, they all have one basic purpose – to help you manage all of your domains from one place, without needing to 'juggle' between two separate accounts with your registrar and web host. With such a tool at hand you can easily configure your domain settings while managing your overall web presence from your web hosting Control Panel.
A regular domain manager should include at least a few basic domain management options, such as registering new domains, transferring existing ones or just hosting them. Another necessary domain service to expect from your host's domain manager tool is the possibility to add your domains' DNS settings and WHOIS details. These are the main options you will need to keep your domain fully functional online. Any other supplementary services will help you to further extend the range of control you have over your websites.
How to get a fully-featured domain manager?
All web hosting plans offered on this website are equipped with an advanced Domain Manager tool integrated into the 'Site Management' section of the Control Panel. You will be able to access all available domain management options from a single interface, while working on your websites through the other hosting sections of the Control Panel.

Registering a new domain through the NTC Hosting Domain Manager has been simplified to the maximum for you. All you will need to do is just enter the custom part of your domain (e.g. your name, the topic of your site, your company name, etc.) and select the TLD part you want to take. Then perform a domain search and if the domain is available, complete the registration procedure. If not, you may try an alternative syntax/TLD, or you may transfer an existing domain of yours instead, following the same procedure.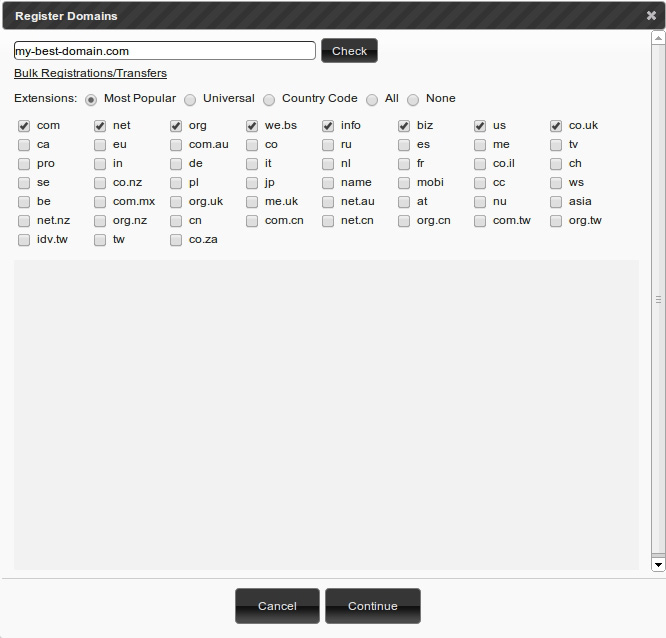 Another option for you will be to just host the domain you already own, without transferring it over. Whichever the case, once the domain gets the correct DNS settings, you will be able to fully manage its registration or hosting settings using any of the multiple options included in the Domain Manager tool.
Domain Manager Features
Edit NS – using this functionality you can modify the DNS records of your domain anytime you need to.

Set Custom DNS Records – with this option you can set custom DNS records to your domain, including CNAME records, MX&A records, SRV records, TXT records;

Edit WHOIS – this option allows you to edit the WHOIS information (including Registrant, Administrative, Technical and Billing Contacts) for your domain name if it is registered with NTC Hosting.

Create Subdomains – check out the subdomains you have set for your domains and create additional, if necessary;

Create Emails – check out the email accounts you have set for your domain and create new email accounts, if needed;

Upload files – upload new files to your domains' directories;

Renew Domain – renew your domain for either one or multiple years at a time;

Park Domain – park your domains by pointing them to a template page or to another URL;

Check site popularity – check out the page rank of your websites, using the integrated popularity check tool;
The Domain Manager comes free of charge for you with each web hosting package (other included tools include Subdomain Manager, Email Manager, FTP Manager). Whichever package you select, you will be able to register and transfer as many domains as you wish. The number of hosted domains included in each plan may vary from 1 to infinity.