The Email Manager is a tool integrated into the Control Panel offered by your web hosting provider. It ensures a user-friendly environment for managing all basic and supplementary email operations in a few clicks. Generally, you would not be required any technical skills to use an email management tool.
What is an email manager?
The email remains one of the most preferred methods of electronic messaging and as such it is a must have service for everyone starting their own personal or business website. Most free email applications available on the web offer the basic e-messaging operations like send/receive/attach and can be accessed only through your web browser. The email service supports many more functionalities that can considerably facilitate your online communication.
To get a fully featured emailing service going you should use the services of an email or hosting provider. The majority of hosting providers today offer a pack of all basic and supplementary email management options you will need to maintain a fast and efficient electronic correspondence with your friends, partners or customers. All those features are usually accessible through a specific user-friendly Email Manager interface integrated into the Control Panel of your hosting account.
Why you need an email manager?
The main mission of the Email Manager tool is to centralize all emailing operations for you, so that you could easily manage them from a single place. For instance, all NTC Hosting packages are equipped with a Control Panel built-in Email Manager, located in the 'Email Options' section: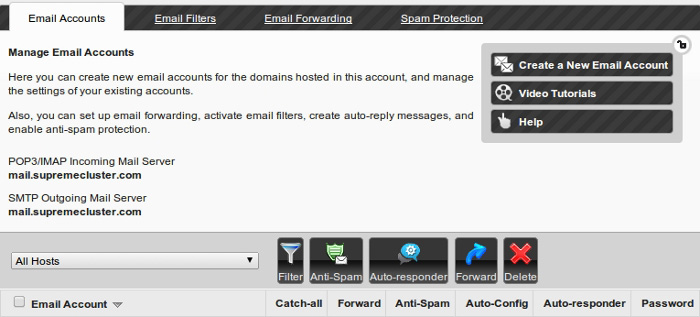 What are the email manager functions?
The Email Manager contains absolutely all services you need to run your email communication and protect it against any possible threats:
Create new mailbox – you can add brand new email accounts to your hosting account through a simple interface. Simply enter the name of your new email address, select its domain from the right-hand drop-down menu and specify a secure password for it. Additional options include forwarding the new mailbox to another address or setting an auto-responder service.

Configure email filters – you can filtrate the messages coming to any particular email address of yours, by setting specific anti-spam filters for it. You will have the option to define which section of the incoming messages has to be filtered, the condition on which this must be done, the exact word/phrase to be detected by the filter, and the exact action to be applied to it.

Set anti-spam protection – this option allows you to set an automatic anti-spam protection to all your e-mail addresses. There are five possible spam protection levels, very low, low, medium, high and very high, where each next level uses a more complex algorithm of detecting spam/junk/ad keywords. You can select any of them according to your personal requirements and change it anytime, if necessary.

Set SPF protection – you can use this option to set SPF protection for your email addresses with the purpose of stopping email spammers from forging their 'From' fields.

Activate auto-responder – this service allows you to set an Email Auto-responder template message that will be sent automatically back in response to all emails coming to your email address.

Set email forwarding – by activating Email Forwarding for your mailbox you can re-direct all e-mails sent to that mailbox to another address of yours.

Set up mailing lists – this option allows you to create your own Mailing Lists and send one message to multiple users simultaneously at a given time. Each hosting plan configuration by NTC Hosting offers unlimited mailing list members per mailing list.

Webmail access options – you will be able to open all your email accounts via webmail access from any part of the world. The webmail option is integrated into your Control Panel and you can take advantage of it through various webmail clients (Supreme Webmail, Horde, RoundCube).
The advanced Email Manager comes absolutely free of charge with each web hosting package by NTC Hosting. According to the package type you have selected, the number of supported email addresses can vary between 100 and 3 000 separate POP3/IMAP mailboxes per account.