For a website to be operational and ready to receive visitors online, it needs to consume a wide range of server resources, ensured by web hosting providers. Some of these server resources, like disk space and data traffic, are vital for the website's existence. While the disk space ensures a place for the site to be hosted on a web server, the traffic allows for the information stored on a site to be transferred over the Internet to the users' computers.
Why you need to monitor your traffic usage
The disk space usage is dependent on you solely as a webmaster and is defined by the size of the files you upload onto your site. The data traffic, in turn, is defined partially by you, when making FTP connections with your site, and predominantly by your visitors, when browsing through your site or downloading information from it. Since you cannot control the users' activity on your site, and hence the traffic that is consumed, this makes data traffic the more vulnerable of the two vital server resources. This has led to the appearance of specific traffic statistics tools, allowing you to monitor the traffic stream on your site anytime and find ways to control its fluctuations and extract important information about the profile of your visitors from it.
What is a traffic statistics tool?
The traffic statistics tools represent user-friendly web-based instruments for tracking in detail all aspects of the traffic generated for your site. They usually illustrate the collected information using tables and visual elements like charts, graphics, etc. The traffic stats tool is especially useful for user-oriented websites like community portals, e-commerce stores, business websites, blogs, etc. Visited by a large, usually ever-growing number of users from different parts of the world, those sites are highly dependent on the quantity and quality of the traffic volumes their users generate for a certain period of time.
How to track your traffic quantity
Giving you comprehensive information about the traffic consumed in result of all visits to your site for certain periods of time, the tool allows you to keep real time track of the traffic fluctuations and take measures to increase your traffic resources if you have reached the quota of your hosting plan. If you are wondering how your traffic usage is calculated, you could take a look at the following example:
Let's say you have a 20 MB MP3 video on your site. Each time a visitor opens the video, a 20 MB portion will be deducted from your assigned traffic quota. If 100 visitors open that video for a day, then the overall traffic usage amount will be 20MB x 100 users = 2000 MB, which would make 2 GB of traffic per day, without counting in the other files on your site! At the same time your hosting plan comes with a 30 GB of traffic per month.
So, if you find yourself in a situation like this, coming very close to the traffic quota assigned to you by your host, then you will need to think of upgrading your current plan to allow more traffic resources. If your website is growing, do let it keep growing by extending the resources it needs the most.
Example of how the traffic quantity is displayed: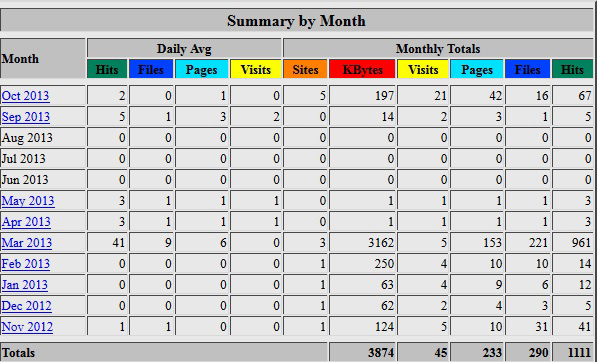 How to track your traffic quality
Apart from displaying the traffic volumes for your site, the traffic stats tool is also responsible for visualizing the quality of the generated traffic. This means that the tool goes far beyond the numbers, giving you valuable information about your site's visibility and the behaviour and origin of your visitors. The traffic stats tool will usually allow you to track what exact pages of your site are most visited over a certain time period.
On the side of the visitors, you will be able to see where your visitors come from – the countries they browse your site from and the referral sites that have sent them to your site. You will even be able to see what browser they have used to open your site. By receiving such valuable details about your site's visibility and the profile of your users, you will be able to strategize ways for improving your overall web presence.
Example of how the traffic quality is displayed: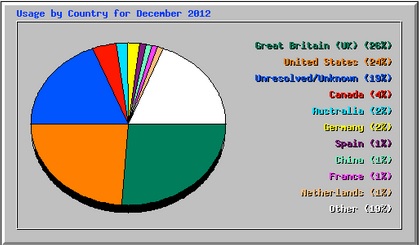 Traffic Stats with NTC Hosting
Using the NTC Hosting services you will have the possibility to track your traffic quantity and quality through a web based traffic statistics tool integrated into the web hosting Control Panel. The Traffic&Bandwidth Stats tool is a part of the Live Stats section of the Control Panel, where you can also find Load Stats and MySQL Stats tools. Its user-friendly interface presents the traffic information in the form of tables and graphs where you can track all types of traffic consuming activities (hits, visits, files, pages) on your websites on an hourly, daily and monthly basis. You will be able to check which country your visitors are coming from, see the URL of the website that has referred them to your site and what browsers they have used to open its pages, etc.